Joe Engressia,
Saturday, January 31, 2009
Look and Feel Your Soul !!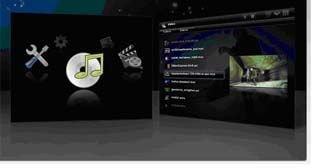 Elisa Media Center is a multimedia application that can be relied on in Microsoft Windows OS. The Application have the view that this is very beautiful, so the User does not make a saturated in use. Some of the benefits from the Elisa media center is :


Movies
Watch your own movies and video clips as well as those found online.
Pictures
Watch your pictures with previews and nicely animated slideshows.
Music
Manage your music collection by artists or album covers.
Fully Networked
Elisa automatically finds media from other computers on your local network.
Peripheral Devices
Automatically detects iPods, cameras, hard drives, etc...
Internet
Everything from Flickr to Youtube and other popular internet services.
Link download Elisa
http://www.ziddu.com/download/3354668/elisa-mediacenter-0.5.25.exe.html
at 1:19 PM